Loading....

Annual Reunion Dinner 2019
Date
Saturday 23rd March 2019

Time
18:30 to 23:00 +0000
Location
The Cresswell Centre
Bristol Cathedral Choir School
College Square
Bristol
BS1 5TS
Cost
£45
£35
Further informationAnnual Reunion Dinner 2019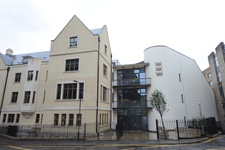 The Annual Reunion Dinner 2019 is taking place on Saturday 23 March 2019. Thanks to the school we will once again be holding the event in the Cresswell Centre. Dress code is dinner jackets or lounge suits for men and equivalent for women.
This is the main event in the Society's annual calendar and we would urge you to attend if you can (why not make up a table with your peers?) to see how the Society has been supporting our school and to learn how you can help to maintain and improve the support we are able to offer. We are especially keen to increase the amount of mentoring support that is available to help students learn more about their chosen career path. Our school is growing so we can expect requests for support from the Society to increase in line with this.
The evening starts at 1830 with a drinks reception and the chance to see displays highlighting the society activities from the previous 12 months. There will also be the opportunity to buy society merchandise.
As in the past two years, Paul Atkins (BCCS Head Teacher) will be conducting his popular tour of the school from 1630. So we can gauge numbers - and whether we need one or two tours - please could you indicate your interest on the booking page.
The three-course dinner will start at 1930. The menu is shown below and you will be asked to confirm your choices on the booking form.
Ticket prices are again differentiated
Subscribing members (and their guests) - £42.00 each. ***
IMPORTANT
- use discount code B5DM2 to get this reduced price for you and your guests***
Non-subscribing former-students (and their guests) - £45.00 each
If you left school in the years 2014-2018 or are currently in Year 13
then you qualify for a £10.00 subsidy on your ticket(making your ticket £35.00). These are on a first-come-first-served basis so please book early. Ensure you enter your "Peer Year" (year you left) for this discount to be automatically added to your booking if still available. If you are already registered on this site, you may not have to enter your peer year as it will already be recorded.
We are again offering attendees to opportunity or making an anonymous donation to the Recent Leavers Dinner Fund. This fund exists to encourage attendance at the Annual Reunion and London Dinners for those former students who left BCCS in the previous five academic years by subsidising their tickets and this will hopefully lead to their active involvement in the Society. Many thanks to Cathedralians who have donated in the past. If you are kind enough to donate, please
DO NOT use a £ sign
in the amount field.
The Council looks forward to welcoming you to the dinner and if you have any queries, please email
dinner@cathedralians.email

Starter
A1 - Tomato and basil soup, herb croutons
A2 - Ham hock terrine, apricot and raisin chutney
A3 - Goats cheese and red onion marmalade tart, balsamic reduction

Main
B1 - Boneless pork cutlet, caramelised apples
B2 - Slow-cooked beef in ale, baby onions
B3 - Chicken supreme, wild mushroom and thyme sauce
B4 - Mediterranean Wellington - roasted vegetables in puff pastry with tomato sauce
All served with fresh seasonal vegetables and potatoes

Dessert
C1 - Apple pie and custard
C2 - Strawberry mousse, fresh strawberries and fruit coulis
C3 - Giant chocolate coated choux bun filled with fresh cream, chocolate sauce
*** Dietary requirements can be catered for (e.g. gluten-free, dairy-free). These should be specified on the booking form.