Cathedralian Harpers' Top 50 Wine and Drink List
Sunday, July 15
Cathedralian, Martin Lam (BCS 1966-73) has been listed in this year's Top 50 influential people when it comes to wine and drink in the UK's restaurant and bar industry.




Martin, who entered the list at No 36, was described by Harpers as follows:
36. Martin Lam
Consultant and chef
Many years have passed since Martin Lam called time on the wine trade favourite Ransome's Dock, where he was dubbed the "wine chef" for his always enticing, well-priced list. But Lam continues to inspire, consult and judge his way around the trade, spreading wisdom and insight along the way.
The full list is at Harpers Wine & Spirits Hot 50 Industry Influencers

Martin was the chef/proprietor of Ransome's Dock on the river at Battersea for many years following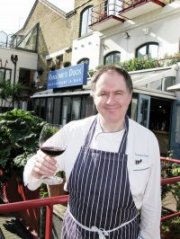 successful spells in some of London's leading restaurants including L'Escargot in the early 80s. Now a regular on the wine judging circuit, he runs a great wine blog - try his story of a recent tasting tour of Chile for starters:

Martin Lam Wine Tasting in Chile